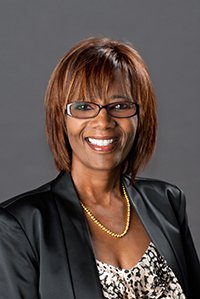 Alameda Health System Chief Nurse Executive Kinzi Richholt oversees nursing services and operations for acute care, inpatient rehabilitation, psychiatric outpatient clinics and skilled nursing.
With more than 25 years' experience, Ms. Richholt is a strong advocate for excellence, innovation, education and research that guide organizational focus on quality patient and family centered care.
Ms. Richholt previously served as a consultant for Kaiser Permanente Medical Center in Antioch and Rady Children's Hospital in San Diego. She also was Chief, System Operations of Management Support Services at Washington Hospital Healthcare System in Fremont, where she led cardiovascular and perioperative services, pharmacy, materials management, and food and nutrition services. She was  Senior Vice President at St. Rose Hospital in Hayward, where she created a "Partners-in-Practice" delivery care system in collaboration with the Chief of Medical Staff and managed all operations.
Education
Bachelor's in nursing; master's in nursing, University of California, San Francisco.